Soeun Sreypy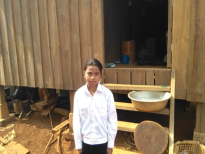 Soeun Sreypy is 11 years old and she is studying in grade 3rd at The Mr. and Mrs. Sak Nhep School and she lives in Chomkatmey Village Batang Commune, Lumphat District Ratanakiri Province.
There are 4 members in the family, her parents, and 2 sisters including her.  Soeun Sreypy is the second child in her family and she has got one elder sister. Her dad is a staff worker and he works for a private rubber farm and he has got one home in rubber farm. He earns about $150 in per month for support his family living but it still not enough to cover everything. Her mum is a housewife and she stays at home to look after her children and prepared food for them.
Soeun Sreypy is a smart girl and a good student. She studies hard on all subjects and she always goes to school by motorbike with her dad. Her home is about 5 kilometers from school.  After school she helps her mum in cooking and she sometimes finds for a work near her home like picking up fruits of cashew, apple and she can trim the rubber to help her dad as well.
In the future she wants to be a lawyer because she loves justice and she wants all the people to obey the law. She thinks that people in a country never respect the law that country will be full of penalty. Additionally, she wants to help her sister and her parent to live in a better life.
Date posted: April, 2018