Tat Samnang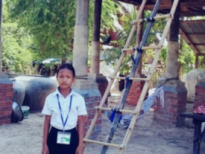 Samnang is an 11-year-old student in 2nd grade at Grace, Hope, Beloved School, which is located in Boeng Veng village, Tangkrasang commune, Batheay district, and Kampong Cham province.
Samnang has gotten three siblings including her. She is the second child in the family. Her parents are farmers and they have owned 0.5 hectare of farmland for growing rice. Samnang said that, every year her parents have produced for 2,000 kg and the type of rice is Phkamlis (Jasmine)
Samnang continued that amount of 2,000kg her parents organized to sell out for 500kg in order to get some money to pay for the debts during they owed about the cost of rice and ingredients they bought from the market. However, the little money that her parents earned form selling rice didn't remain for spending to various needs of the family, especially, that money was unable to afford Samnang's study.
Therefore, Samnang's parents had to find out other ways to fix the problems of the family's needs. So that from day by day her parents went to ask some works to do from other people at the rice fields in order to get little income to assist the family.
Samnang expressed in her future goal that, she wants to be a doctor because she wants to help and treat the patients in her village. Particularly, she really wants to treat her older sister because of her old sister was a deaf-mute who didn't hear anything.
Date posted: June 2018