Thach Nang Ra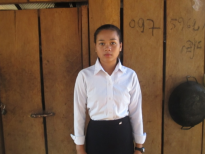 Nang Ra is a17-year-old student who attends in 10th grade at Dormitory School in Banlung town of Ratanakiri province.
Nang Ra is an ethnic minority student who has two brothers and one sister in the family. Her parents are farmers and they have about one hectare of farmland for growing rice. They can harvest about 600 kilograms per year because her parents grow the rice on the upper land which is far from the water way about three kilometers. Nang Ra commented that, every year her parents grow rice for their consumptions and not for selling.
Besides growing rice her parents sometimes go to work at other farm in order to earn about 3.75 to 5 US dollar in a day. The works that her parents implement at the farms are clearing grass, digging potatoes and picking cashew nuts. On holiday she helps her parents do housework such as cooking, cloth washing, and house cleaning.
In the future, Nang Ra wants to be a Khmer teacher because she likes this job and she wants to provide education to a next generation.
Updated: June 2018