Tol Chanry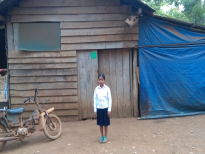 Tol Chanry is 13 years old and she is a minority tribe. She studies in grade 5th at The Mr. and Mrs. Sak Nhep School. She lives in Chorng Ra Village Batang Commune, Lumphat District Ratanakiri Province.
Tol Chanry is having 2 brothers and one sister. She is the first child in the family. Tol Chanry parents, own two hectares of farmland, producing 1110 kg of rice per year, earning about $50 per month, and are of a minority.
The family lives in a small wooden house, which is far from the school but she always come to school everyday.
Additionally to working on the farm, her family picks fruit, resin, and vegetables, as well as hunts for fish and wild animals to sell. Furthermore, they raise pigs, ducks and chickens to earn more money fro support their family but it still not enough.
Tol Chanry always studies hard and helps her friends with their school works as well. Tol Chanry goes back home twice a year when there are long holidays. Her parents give her $20 per month to spend and buy of what she needs for.
For her future goal, she wishes to be a nurse because she enjoyed this career and she could help her ethnic minority communities in the area.
Date posted: April, 2016