Van Dane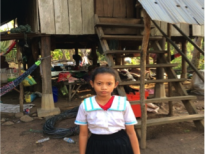 Van Dane is 13 years old, and she studies in 7th grade at Chey Yo Secondary School in O`paek village, Chey Yo Commune, Chamkaleu District, KampongCham Province.
Van Dane is the first child in the family, with 1 younger sister and 1 younger brother. She lives in her father name is Suong Van, 34 years old and her mother is Sai Norm, 32 years old and they are farmers.
Her family is poor and owned 70A of farmland for plant rice. The rice can produce 10 bags of rice in per year (1 bag of rice is equal 80kg). After the rice's yield collection her parent sold out for 5 bags and got $100 is paid for the food but it was not enough for daily expenses in a whole year. Besides the growing rice her father doesn't have another job to do because he so hard in his mind for his wife just died less than one month and grandma, she have daily ill couldn't do anything and for school is so far from her house. She came to school with her friend by old bicycle.
As for Van Dane, she is study very hard and she is a good student in the class. After school, she helps her family likes cook, clean house, and take care her younger brother. In her free time, she likes to read the books and review the lessons from school.
For Van Dane's future goal: she wants to be a Teacher of math when she grows up. She wants to help all the kids in her village and also she wants to earn money to support her family.
Date Posted: December 2018