Vorn Chay Vourn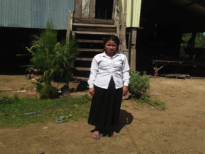 Chay Vourn is 14 years old student in 9th grade at The Tokatsu Espoir School, which is located in Ta Khong village, Trien commune, Kampong Siem district and Kampong Cham province.
Chay Vourn's family consist four members including parents, younger sister and her, who is first child in the family. Her father's name is Mr. Yot Chai Vorn, 41 years old and he is a farmer. Her mother's name is Mrs. Bou Srey Mon, 40 years old and she is a farmer too.
Vourn commented that, her parents own 0.2 hectares of farmland to grow rice every year. But their rice field depends upon natural raining only. For the rice production in per year, her parents could gather about 5 sacks of rice and quantitative rice for one sack is about 70-80 Kilogram. After gathering rice is completely finished then her father hasn't still stayed at home but he went to work as seasonal workers in order to get 20,000 riels per day to support his family.
In her free time, she helps do her mother's housework, homework and she tries to study hard to be a smart student. In future, she want to be teacher because she likes teaching young children and she loves this career because of she wants to educate young children in her village to become educated people.
Date Posted: November, 2018