Yar Orn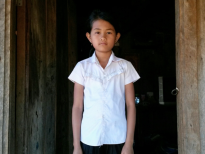 Yar Orn is a 10 years old student in 4th grade at The Ascham School community, in Poutaing village, Romney commune, Senmonorom district, Mondulkiri province.
There are four members in her family, including her, the parents, one brother, and she is the youngest child in the family. Her mother and father are farmers who owns haft hectare of farmland where they can produce some rice to eat in family during a year. Out of the work in the rice field, her parents have a wood carving skill that they also can make some extra ear from carving picture on the wood for a wood store in the village, they ear 20,000 riels a day from this work.
Orn studies hard in school, and after school she always help her mother with housework and other chores.
In the future, she wants to be a teacher so she can share her knowledge with the kids in her village.
Updated: June 2018