Yen Seimavortey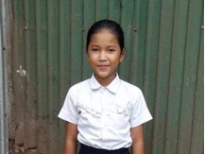 Yen Seimavortey is 13 years old and she is in grade 7 at The Wahrenbrock Family School #235 in Takeo province, Ko Antet district, Pech Sar commune, Chong Angkar village.
Seimavortey has three members in her family. There are two parents and one brother. She is the first child in her family. Her parents are farmers and they have own 30 A field farmlands which they have cropped two yields of rice and they have produced an average is 1,000 kg of rice per year. And they have earned money about cropping yields of rice average is 730,000 Riels per year. As the family is poor, they have no enough money to support her studies. Seimavorty commonly rides a bicycle to school. When after school, she needs to help with her housework and various chores.
Seimavortey wants to be a doctor when she grows up. She loves the position very much. Moreover, she wants to assist patients in rural villages. In her idea, she thinks that rural villagers have no enough money to the private hospitals. And she glorifies the domain of health and wants the rural people to believe in the state hospitals that all the doctors really try their best to take care of the patients. She would love to earn money to support her family in the future when she is going to succeed in her aspiration.
Date Posted: July 2019