Report from a computer teacher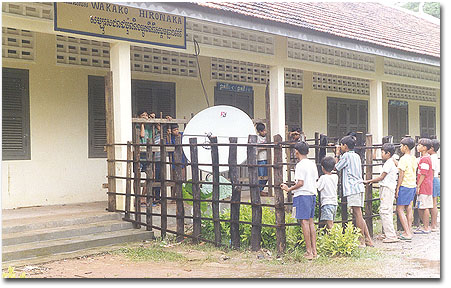 The students at the Wakako Hironaka School in Robib are being taught how to use  computers and access the Web. The trainers are six orphans who have been learning and working over the past 18 months  on computers at the Future Light Orphanage,  in a village outside the capital of Phnom Penh. Four of the orphans are between the ages of 8 and 11 who rotate for three month periods to attend the Robib and other rural schools to continue studying there while teaching the village children and their teachers the art of operating a computer and in the case of Robib, the wonders of accessing the Web. The youngcomputer instructors receive $20 a month. Two of the "senior" trainers are 16-year-old orphans who will stay at Robib for at least a year. They earn $60 a month and get  a one week holiday to return to Phnom Penh every three months.  We receive frequent  reports but this  is the first monthly report from Sovichet Hem, 16, who sent it  on his own without any guidance nor a request to produce it. Eighteen months ago Sovichet Hem barely knew any English or what a computer is.  His  "leapfrog" is a clear example of the potential of good education on the future development of Cambodia as well as a  reflection of the excellent environment provided to 285 orphans at the Future Light Orphanage, directed by Mrs. Nuon Phaly. Sovichet Hem's report sent by e-mail from Robib Village on July 16, 2000:
Date: Sun, 16 Jul 2000 04:56:58 -0700 (PDT)
From: Robib Village <robibtech@yahoo.com>
Subject: Re-Monthly report July 16,2000 at 06:40:26+0700
To: bernie@media.mit.edu, nphaly@hotmail.com
Cc: phannarin@hotmail.com, flo@camnet.com.kh
MIME-Version: 1.0
Content-Type: text/plain; charset=us-ascii
X-UIDL: de2c55476afbd00d5c083c6feb812dbb
Dear Mr.Bernie,Mr. Doug,Mr. sothero and Mrs. Phaly
Nuon
Objective of headlines
1. Opening a new chapter for computer teaching
2. Planning to teach  computer
3. Planning to teach English
4. Problem concern
5. Budgeting
6. Observations (Mission, Living)
I. Opening a new chapter for…
We started to open a new class on Monday July
03/2000.
There are 50 students attended regularly. Among of
50 students we divided into 10 groups and these ten
groups we shared into 2 parts. The first part shared
into 5 groups and studied from 7:10 to 11:10 .
The second part also shared into 5 groups and studied
from 1:00 to 5:00 P.M.
Each group took only 40 minutes because it
depended
on the state school's schedule that they assigned.
The daily schedule
Morning
Group I.          Started from 7:10 to 7:50
Group II.         Started from 8:00 to 8:40
Group III.        Started from 8:50 to 9:30
Group IV.         Started from 9:40 to 10:20
Group V.          Started from 10:30to 11:10
Afternoon
Group I.          Started from 1:00 to 1:40
Group II.         Started from 1:50 to 2:30
Group III.        Started from 2:40 to 3:20
Group IV.         Started from 3:30 to 4:10
Group V.          Started from 4:20 to 5:00
Hence each group we could take a rest for 10
minutes and these 2 parts above could change actions
weekly from the morning to the afternoon and from the
afternoon to the morning.
II.Planning to teach computer
· Macintosh Operating System, Microsoft Words and
Clariswork program.
· Internet
About Instruction
On Monday July 03/2000 we taught the theory and
the basic of the computer.
On Tuesday July 04/2000 the students learned how
to turn the computer on and off and they also learned
the kinds of  instruments of computer as the
following;
Monitor, CPU(Central Processing Unit), Keyboard, Mouse
and Cables.
From Wednesday July 05/2000 to Friday July 07/2000
they learned how to use the four mouse-actions as the
following;
Pointing, Clicking, Pressing and Dragging.
Pointing: Showed them how to use the mouse to
control the movement of a  pointer on screen and point
to an object on screen by moving the mouse so that the
pointer is positioned on that object.
Clicking: Showed them how to click an object on
screen by pressing and quickly releasing the button
while the pointer is on that object.
Pressing: Showed them how to press by holding down
the mouse button without moving the mouse.
Dragging: Showed them how to drag an object on
screen by pointing to that object and holding down the
mouse button while they move the mouse.
We also explained them what appeared on screen as
such as Menu bar, Apple menu, Startup disk icon, Trash
icon and Program icons.
On Saturday July 08/2000 we explained them to know
the two different programs between Microsoft Words and
Clariswork.
.Microsoft Words ( we use this program for typing
or writing text, as such as write report, organize
document, particularly it is needed for the
administration).
.Clariswork ( use for drawing picture ).
We planned to teach them three days of Microsoft
Words and two days of Clariswork.
.They learned the Microsoft Words from Monday to
Wednesday.
.They learned the Clariswork  from Friday to
Saturday.
.On Thursday we planned for the old chapter to
practice.
From Monday July 10/2000 to Wednesday July 13/2000
we taught them Microsoft Words
On Thursday July 14/2000 we opened the computer class
for the past students to practice.
From Friday July 15 to Saturday July 16/2000 we
taught them the Clariswork program (drawing) and we
showed them how to use the drawing tools.
My confirm: From June 15 to July 01/2000 we still
taught the past students but not on June 24/2000
because Mr.Sothero and two engineer specialists of
Thailand were setting up the Internet link.
Mr. Boreyrath and I do not teach Internet and we
only teach them the computer lessons as such as the
Microsoft word program and the Clariswork program.
Every day Mr. Vansoeurn teaches them the Internet
lesson. First we could not choose the students who do
not understand about the basic of computer hence we
decided to choose the first previous students who
already pass the basic of computer.
III.English teaching
.Purpose of teaching by Essential English book
one.
.Purpose of teaching by making the conversation
direct to the students.
We teach them three days by the Essential English
book one and two days by making the conversation
direct to the students and except on Thursday is their
labor day and Sunday is their holiday too.
Each of us have one hundred and twenty-nine
students. We change schedule of English teaching every
week from the morning to the afternoon and from the
afternoon to the morning because it depend on to the
schedule of the state school course which the school
director arranges. We teach English 4 hours per day.
IV.Problem concern
.Computer machine
.Generators
.Solar penal
.Satellite disk
.Activity of generator
Computer machine:
Every day we have seven computers.
On Tuesday July 5, 2000 we had one computer that
the students couldn't practice. It had the model as
below;
Macintosh Color Display
Family Number: M1212
Serial Number: S124512WE09
Power : 100-240V, 50-60 Hz, 1.3A Max
This computer couldn't use because it lost the
software system and it caused from  the students.
Generators:
We have two generators but every day we use only
one generator is an old big generator to connect with
six computers and one computer else connect with the
solar penal.
We couldn't use a small new generator with the
seven computers because the electric current isn't
stable.
Solar penal:
The solar penal could connect with only one
computer and it couldn't use enough time in this rainy
season because it has so much falling rain and no
enough sunshine and it often overcast sky.
Satellite disk
On Wednesday we joined with the school teachers
and the students to fence around the satellite disk
and took for 4 hours to do it. It is very safely every
day and no one plays football near it.
Activity of generator
……………………………………………..
Date    :Generator's:    Time bound    :   Capacity :
:  working  :   A.M :   P. M   :   of liter :
……………………………………………..
15/06/00:  8 hours  :7.10-11.10: 1.00-5.00: 10 liters:
16/06/00:  8 hours  :7.10-11.10: 1.00-5.00: 10 liters:
17/06/00:  8 hours  :7.10-11.10: 1.00-5.00: 10 liters:
18/06/00:  holiday  : no class : no class :  unpaid  :
19/06/00:  8 hours  :7.10-11.10: 1.00-5.00: 10 liters:
20/06/00:  8 hours  :7.10-11.10: 1.00-5.00: 10 liters:
21/06/00:  8 hours  :7.10-11.10: 1.00-5.00: 10 liters:
22/06/00:  8 hours  :7.10-11.10: 1.00-5.00: 10 liters:
23/06/00:  8 hours  :7.10-11.10: 1.00-5.00: 10 liters:
24/06/00:  9 hours  :7.10-11.10: 1.00-5.00: 12 liters:
25/06/00:  5 hours  :7.10-12.00: no class :  6 liters:
>From 24/06/00 to 25/06/00 was setting up
the Internet link.
26/06/00:  8 hours  :7.10-11.10:1.00-5.00: 11 liters:
27/06/00:  8 hours  :7.10-11.10:1.00-5.00: 11 liters:
28/06/00:  8 hours  :7.10-11.10:1.00-5.00: 11 liters:
29/06/00:  8 hours  :7.10-11.10:1.00-5.00: 11 liters:
30/06/00:  8 hours  :7.10-11.10:1.00-5.00: 11 liters:
01/07/00:  8 hours  :7.10-11.10:1.00-5.00: 11 liters:
02/07/00:  holiday  : no class :no class :  unpaid  :
03/07/00:  8 hours  :7.10-11.10:1.00-5.00: 11 liters:
04/07/00:  8 hours  :7.10-11.10:1.00-5.00: 11 liters:
05/07/00:  8 hours  :7.10-11.10:1.00-5.00: 11 liters:
06/07/00:  8 hours  :7.10-11.10:1.00-5.00: 11 liters:
07/07/00:  8 hours  :7.10-11.10:1.00-5.00: 11 liters:
08/07/00:  8 hours  :7.10-11.10:1.00-5.00: 11 liters:
09/07/00:  Holiday  : no class :no class :  unpaid  :
10/07/00:  8 hours  :7.10-11.10:1.00-5.00: 11 liters:
11/07/00:  8 hours  :7.10-11.10:1.00-5.00: 11 liters:
12/07/00:  8 hours  :7.10-11.10:1.00-5.00: 11 liters:
13/07/00:  8 hours  :7.10-11.10:1.00-5.00: 11 liters:
14/07/00:  8 hours  :7.10-11.10:1.00-5.00: 11 liters:
15/07/00:  8 hours  :7.10-11.10:1.00-5.00: 11 liters:
……………………………………………..
Whole total :222  hours                :  296 liters:
……………………………………………..
V.Budgeting
From June 15,2000 to 15 July, 2000 we bought the
gasoline for 10 times. At once time we paid 42000
riels for one barrel and 1 barrel = 30 liters and
1liter = 1400 riels. 30 liters x 1400 riels = 42000
riels. So 10 barrels x 42000 riels = 420000 riels.
Transportation of gasoline;
We paid 2000 riels at once time for the moto-taxi
to transport the gasoline. So 10 times x 2000 riels =
20000 riels.
On July 01,2000 I paid 3500 riels to buy one pair
of slipper for a kid called CHANTHY.
Medicines
On Wednesday June 28, 2000 I bought the medicines
to serve for the kids as below;
.Paracetamol  500mg 4P x 1500 riels =   6000 riels.
n Decolgen  500mg      2P x 5000 riels =  10000 riels.
n Ganidan    500mg     1P x 4000 riels =   4000 riels.
n Theralene  500mg     1P x 6000 riels =   6000 riels.
Total :  26000 riels.
VI.Observations ( Mission, Living)
Arrival:
On Friday June 23,2000 at 5:10 there was a team
and leaded by Mr. SOTHERO NUON. There were 8 people in
this team and two of 8 people were engineer
specialists of SHIN SATELLITE PUBLIC COMPANY LIMITED
of Thailand and 6 people else were Cambodian people.
One of 6 people was a newcomer teacher, he was an
Internet instructor and a maintainer of equipment.
On Wednesday July 5,2000 at 6:15 P.M ROVIENG
district was arrived by Mr. NOEU TY , a driver and two
American volunteers.
On Tuesday July 11, 2000 around 5 o'clock P.M or
so there was a trip which leaded by Mr. Doug arrived
in Rovieng district. Whereupon there were also a new
interpreter his name called DY and another one was a
staff in Tbeng Mean Chey who related with the silk and
the last one was Mr. Zhong, he was a driver.
Departure:
On Sunday June 25,2000 at 2:00 P.M ROVIENG
district was left by the team of Mr. SOTHERO
On Thursday July 6,2000 at 2:10 P.M ROVIENG
district was left by Mr. NOEU TY and a driver.
On Sunday July 16, 2000 around 9:30 A.M Mr.Doug
and his translator, Boreyrath and a driver left
Rovieng district and straight to Phnom Penh.
Living:
We are happy. We could get away with serious
diseases but a tiny problem we could not avoid from
normal diseases and we reserve the medicines every day
for diseases.
We felt being very pleased with a terrific time
here, the environment here is very nice and pleasant
but this is the rainy season and there is so rainy
falls almost every day. Sometimes we go to school with
the drizzle.
The residents here are very cordial to us and the
owner of the house whom you rented for us and all
people in this house are very friendly too.
We generally have three mealtimes as such as the
breakfast, the lunch and the dinner. Largely we eat
rice more than porridge for the breakfast and the
porridge occasionally we eat once time. The lunch time
and the dinner time we usually eat rice with the few
kinds of stews or soups. So we eat copious foods and
the foods are very tasty.
Best regards,
Sovichet Hem
__Robib, July 16, 2000 ________________________________________________
---
Exchange of E-Mail between two Primary Schools' Students in Rural Cambodia
X-Mailer: Microsoft Outlook Express Macintosh Edition – 4.5 (0410)
Date: Mon, 27 Aug 1956 22:08:06 +0700
Subject: Re: To: Sim Minea!!!
From: "Future Light Orphanage" <flo@camnet.com.kh>
To: "Hironakaschool –" <hironakaschool@yahoo.com>
CC:
Mime-version: 1.0
X-Priority: 3
Content-type: multipart/mixed;
boundary="MS_Mac_OE_1661724486_169134_MIME_Part"
X-UIDL: c12d7438fbdd4838379b8a7e722eb8fd
Dear Sim Minea,
Thank you very much for your message on Sat 22 Jul 2000. I'm interesting.
My name is Run KONGKEAR, 13 years old. I'm grade 4 of Prey Speu Primary
school boy. I live in Future Light Orphanage (FLO). I walk every day from
FLO to school about 3 kilometers and I study English and computer at FLO.
Right now, I can speak English a litter bit, and I can drawing on Painting
program and typing both Khmer and English on word processing (MS-Word). I
can type 32 words per minute.
I like reading and drawing and I'm very interesting on Internet and email.
I'm very happy to be your friend. This is the first time for me to write
this letter on email by my teacher help.
>From your good friend,
Run KONGKEAR
———-
>From: Hironakaschool — <hironakaschool@yahoo.com>
>To: flo@camnet.com.kh
>Subject: group#5ciass#6A
>Date: Sat, Jul 2000, 5:04 PM
>
> Dear all The friends in Future Light Orphanage,
>
> Hello all The friends in Future Light Orphanage,
> I'm a student  in  grade 6 in Robib School,
> I'm Learning The Computer and English Language every
> day,
> I 'm very interesting  wiTh These Knowl edges ,
> My Internet teacher's name is Mr Vansoeurn,
> My English teacher's name is Mr sovicheTh,
>
> My name is sim minea
>
> __________________________________________________
> Do You Yahoo!?
> Get Yahoo! Mail ñ Free email you can access from anywhere!
> http://mail.yahoo.com/
>
A report from an American university student, living in Preah Vihear Province
X-Originating-IP: [203.127.100.5]
From: "Matthew L. Madden" <mohamadden@hotmail.com>
To: bernie@media.mit.edu
Subject: re: thank you
Date: Thu, 27 Jul 2000 01:14:40 MDT
Mime-Version: 1.0
Dear Mr. Krisher,
Following is my final report of my volunteer activities with Japan Relief for Cambodia, as I promised:
>From May 14 to May 28 I spent time at the Future Light Orphanage observing the teachers and students and helping to teach. I spent part of each day in the English class observing teaching, and the rest of each day in the computer lab. In English class I observed the teachers strategy for teaching the kids, and then followed the same pattern when he gave me time to teach.
When the computer teachers taught lessons to the children, I wrote them down in Khmer also to get a feel for the lessons and to provide myself with some lesson materials when I went to the provinces. When the children were given practice time to paint pictures or type I usually tried to find children who needed individual help and assist them. During this time I also learned quite a bit about how to use MAC paint program that they use, and spent some time becoming familiar with the Khmer font layout that they use.
My time spent at the orphanage was helpful in providing me with a basic familiarity with Khmer classroom systems, relationships, and behaviors; a feel for the kind of text needed to teach beginning English to Khmer children; a basic understanding of computer programs and fonts used; a Khmer vocabulary for computer-related concepts and objects; and some computer lessons that I copied during computer class.
>From June 1 until July 14 I spent five days a week teaching English and computers to students of the Khum Reaksmey (Elaine and Nicholas Negroponte) Elementary School in the Rovieng District, Preah Vihear Province. I alternated between English and computers for four hours from 7 a.m. until 11 a.m., and then for another four hours from 1 p.m. until 5 p.m.
The morning classes were composed of children who studied their normal public school curriculum in the afternoon, and vice versa. Three of the four English classes were mixed classes of second to fifth graders, and one class was strictly first graders. For the first couple of weeks all of the children learned to write and recognize the characters of the English alphabet. Emphasis was placed on writing correctly and neatly, using the lines in their books to follow examples given by me. Homework was assigned and corrected each day.
I soon realized that the first grade class needed to take it slower than the other classes, so they soon moved into their own pace apart from the others. The first graders also spent time in each class period learning to sing a song: Head, Shoulders, Knees, and Toes. I had discovered that their attention span was especially short, and the singing helped to attract their interest in learning each day. However, by the time the children had finished learning the alphabet, I found that some of the first graders who hadn't quit by then knew the alphabet better than many of the older children.
Once the children had covered the whole alphabet from A to Z, things became more difficult. I didn't know how to proceed from there. At first I tried just to teach them the basics of reading by putting letters and sounds together and was surprised by their lack of understanding. I tried to start simple and give them two-letter words with only short vowel sounds, but even then there were only certain of the brighter students that got the concept. I found that they expected their teacher to tell them what to say and they would just repeat after me, rather than figuring the words out on their own using the letters. Perhaps this is a reflection of traditional Khmer classroom systems. In fact, this reluctance to figure things out and solve problems on one's own based on what had previously been learned, without waiting for step-by-step guidance from the teacher, was witnessed in computer classes as well. Because of the constant frustration felt by both myself and the children when trying to learn reading, I felt that maybe I should try a different approach and tried to teach them how to speak some basic sentences and greetings. Feeling that they were just writing what I wrote and saying what I said, but not understanding why words are said the way they are said, I was continually pulled back into teaching reading as well. I sort of improvised from day to day based on my students' responses and alternated between the two approaches, trying to find a balance that worked. I felt that English is a huge and convoluted subject to attack, and felt insecure on just how to go about it with people who had never learned it before. I often felt that maybe I was trying to go too fast and make it too advanced, and then tried to slow it down. I realized that it has to be very simple and slow-paced and began to wish that I had a good beginner's English textbook for children that good give me some guidance on how to do it.
Finally I procured the textbook Let's Go in Phnom Penh. That is the first textbook used to teach the orphans in the FLO, and seems to be very effective. It is very simple and is geared towards young children. I was able to use the first two lessons in my final week of teaching. (I feel very strongly that Let's Go would be an effective teaching tool to use with the children, especially if used in conjunction with the Let's Go cassette tapes. I left a copy of Let's Go Book 1 and Book 2 at the school when I left, as well as the tapes, although there is nothing to play them on.)
When I left my students they were fairly familiar with the alphabet, had a very vague understanding of how to read single-syllable two or three letters words (some students better than others), and could say some basic sentences like greetings, asking and telling names, and asking and answering 'What is this?' On their last couple of days they learned how to use an English-Khmer dictionary to look up words, and several students caught on much more rapidly than I expected.
The computer classes each consisted of five children, chosen by their teachers because of their skills and motivation. It was decided that five would be the maximum, since there was only one computer. Even with only five students, this still meant that the approximately 30 days of instruction was the equivalent of maybe six days at the FLO, in terms of the time that each child got to spend with the computer.
The early lessons consisted of learning the names and functions of basic parts of the computer. Then the children learned how to use the mouse, using some lessons I had copied at the FLO and one that was innovated on my own. I found that the children were extremely uncomfortable and awkward with using the mouse and were even a little afraid of using the computer. Giving the children time to paint pictures was an excellent way to help them get comfortable with the computer and with manipulating the mouse. Whenever there was a lesson, it occupied the first part of class, and then the rest of the time was spent in using either the painting program or typing Khmer script in Microsoft Word. Many class periods, probably most, had no lesson and were spent entirely in using the computer to practice typing or drawing.
Before my last week at the school I was able to procure photocopies of a Khmer lesson booklet on Mac-OS at the FLO in Phnom Penh. This was used to teach the children during my last week, and is a priceless resource to leave with them in their classroom. I also procured some lesson books on Microsoft Word to leave with them, though I never taught from them and believe that they are perhaps too advanced for my students at this point.
When I left my computer students, they were getting more familiar and comfortable with using the computer and manipulating the mouse and keyboard. They were getting faster and more confident in typing, and more creative and resourceful in their drawing. They have basic knowledge of how to turn the computer on and off, start relevant programs, turn Khmer fonts on and off, and save and open files (though they still show a reluctance to do these things on their own without step by step instructions and guidance from the teacher.)
My own opinions and suggestions on how the children could continue to learn
to use the computer if they don't have a new teacher soon is that perhaps one of the older, more trustworthy children could be given a key to the classroom and could open the class during certain times so that the computer students can have an opportunity to use the computer. I tried to give them enough self sufficiency to be able to start and use the programs they need without help, though they may need to depend on their copied lessons if they can't remember. I imagine it would also be necessary to have access to someone who knows Macintosh well from time to time to help solve problems and maintain the computer in proper working order. There are also dictionaries, English books, and computer lessons there in the classroom for the children to use.
While in Reaksmey I lived in the house of a local Cambodian family. The food provided by them was good and I had virtually no problems with it (though I did give them a good explanation of what I can't eat from the beginning.) I slept on a grass mat like they do and bathed from a water pot in the front yard wearing a cloth around my waist, just like they do. I used the toilet facilities at the school, since locals don't have toilets. I felt that my physical accommodations were adequate, thanks to the presence of the school, and have no complaints. I actually enjoyed being able to live with rural Cambodians and live like they do, and it is something I've wanted to do for a while.
The emotional and psychological aspects were not always easy, I must admit.
It was difficult to become fully accepted as a normal person by the community. I often felt frustrated by their seeming rudeness or condescension and often felt that they treated me more as a novelty or object of ridicule than a human being. My students were frightened of me at first and wouldn't talk to me or answer my questions; many children would run away if they saw me coming.
By the end of my time people had gotten somewhat more used to me and my students were starting to open up and show love to me. I became quite close to the family I lived with and with many of my students, and it was hard to leave them. Many community members lost their fear and/or contempt of me and began to treat me more like person than an exotic animal. I was invited and received with honor at community events like wedding receptions. Over all I had a positive experience, despite the occasional negative feelings mentioned above.
I recognize that the emotional and psychological frustrations that I experienced are natural symptoms whenever two very different cultures come in contact ñ it is often called 'culture shock.' I also recognize that the people there have never experienced the presence of an outsider like they did with me, and they didn't yet know how to handle it like maybe we or even the people in Phnom Penh would. I am very grateful for my fluency in the Khmer language and my familiarity with Khmer society and customs, without which I doubt I could have survived. I simply can't imagine someone doing what I did for very long at all without knowing at least the language, and I see that as a large potential limiting factor of using volunteers. I imagine that a person could manage to procure at least the physical necessities for living without knowing Khmer, but I personally feel that the psychological and emotional isolation could become too much to cope with. And that doesn't even take into account problems of trying to instruct Khmer students who can't speak English.
I would like to finish by thanking you tremendously for the opportunity you gave me. I felt that my time in Reaksmey was a very good experience, and I have good memories of it. Like I said, it provided me with an opportunity to do something I've wanted to do for a long time and thought that I never would. I hope I was also able to touch the lives of some Cambodians. I would also like to thank you for giving Jeremy and I a place to stay in Phnom Penh for our last couple of weeks here before we return home. I can't tell you how helpful that is to us, and it is tremendously appreciated.
Good luck in all of your current and future endeavors to help the people of
Cambodia.
Best regards,
Matt Madden
E-mail from child instructors at the Future Light Orphanage in a village outside Phnom Penh to their friends in Robib village
X-Mailer: Microsoft Outlook Express Macintosh Edition – 4.5 (0410)
Date: Sat, 19 Aug 2000 16:09:07 +0700
Subject: News
From: "Future Light Orphanage" <flo@camnet.com.kh>
To: hironakaschool@yahoo.com
CC: aafc@forum.org.kh, schlemme@daily.forum.org.kh, phannarin@bigpond.com.kh,
bernie@media.mit.edu
Dear Soriya, Sothear and Chanthy,
Hello, everyone, How are you all? How are your job and studies? we hope youall are doing well job.
I want to tell you that we  Check Sreysrash, Kuy Sithan and Phorn  Sophas(for Preah Vihear) and Seng Srey touch, Sang Piseth (Tang Beourng, KgCharm),  are assigned  to be trainers like you for rural school. We aregoing to on this Monday morning, but we are not sure, must waiting for goodnews from Mr. Douglas Schlemme. Bye now and we hope see you sooner.
Please read my attachment file in Khmer as below:
Love,
Your friends
---
Compliments on Robib's silk weaving
Reaction to the silk products hand woven  by Robib  villagers has elicited messages of delight from many customers who have ordered them (see Robib Products). Here is one recently received
I am absolutely delighted with the shawls which were waiting for me when I returned from my summer holiday. They are superb in their workmanship and artistry. I think I may order a bunch more towards the end of the year for Christmas and Hannukah gifts for all the women in my family!
June Kinoshita, Cambridge, MA  (September 7, 2000)
A School Donor (Dorothy Rinaldo) Asks Some Questions of Nuon So Thero, AAfC Country Director
Phnom Penh, March 15, 2002
Dear Dorothy,
Thank you for your message. My replies are between lines in color.
Dear Nuon So Thero,

 

    Thank you for all you did to make our visit both comfortable and exciting.  It was a great trip, although we learned from you of the suffering you all incurred.  The visit to the school was truly eye opening.  It is one thing to read about rural conditions, and another to encounter them. 

    After I came home, I realized that there were far more questions that I should have asked, but procrastinated in asking them to you.  Now that our Unitarian Fellowship has asked me to give a 10-minute talk on the rural schools–as an example of doing good–I can no longer delay in asking you more about the schools.

1.  Are they divided into grades? (Matt Madden's report mentioned first grade)

     If so, are they by age or by level of learning?

 

Yes, the students are divided into grades. They are graded by the level of learning. They use 10 mark as the highest and 5 as an average.

 

2.  What is the age range of the children in the school?
The students start from six to 12 year-olds.

 

3.  The year the school started, I assume all children were basically at the same level of learning.  Were classes divided by age?  By what ages?  Were there four classes in the morning, representing four ages?  Were the afternoon classes four different ages?

 

There are five years in the primary school. Everybody must start from the first year regardless of their age. The ages are mixed and there is no seperation. The schools have two shifts because they (a) follow the Ministry of Education guidelines and (b) do not have enough space  for all the schoolchildren.

 

2.  In subsequent years, was one class added and another "graduated"?  In other words, how long do the children theoretically remain at the school? 
In every new school year, a new class replaces the the previous one. The first level move to the second, third move to the fourt, to fifth, and the fift level will move to secondary school (senior high school).

 

In our country, when a new school is built, it has provision for different levels, and children are put into appropriate level, according to their previous learning.  But in the case of the rural schools, most have had no previous learning, so I'm trying to understand how a progression from one level to another works.  I assume since they enter at the same level of learning, that your levels must be on the basis of age.

 

The level is not set on the basis of age. In some area which there was no school or were oftentime interupted by fighting, the 12 years old children  may still on the first level. The Ministry of Education is trying to reduce the gross-age children and encourage children who become 6 years-old to go to school.

 

3.  What is being taught?  I gather that English and computer skills are taught.  Are reading and writing in Kymer also taught  (I presume so since Matt mentioned Kymer fonts?  what about arithmetic and geography? 
The public schools teach general knowledge such as Khmer literacy, math, physics, geography, history etc. There is no computer course nor English course in the primary schools. These courses are provided by our organization and at the schools built by us.
 

4.  Are different groups of children taught different things? 
Each level teaches different things. They are taugh different things and in different format.
 

How long do children tend to stay in school?
Five years at primary schools, and seven years in secondary schools.

 

What are the most difficult problems the school faces? (something more specific than poverty)
Lack of  school supplies, not enough school buildings, lack of teachers, lack of management and transparency. The teachers get low salaries, around $25 per months and have to wait three to four months to receive their one month payment.
 

What are the most rewarding aspects of these schools?
Education is the most importand issue to develop young generation of Cambodia to leapfrog from poverty. A Cambodian phrase says that: "schools are the field of knowledges". Cambodian children are hungry for knowledge. In some places, because there are no schools, they learn under the tree. Children used to help their parents do farming in the field and abandon their studies but children at our schools consider that coming to class is more important than going to the field. Their parents also encourage their chidlren to come to  school.

 

I hope these answers help you something.

 

thanks for all you've done.  I hope responding to my questions won't be too bothersome.

Dorothy

 

You're welcome.

 

Thank you and best regards,

Thero