The Cambodia Rural School Project
The Alvash and Betsy Dearth School
---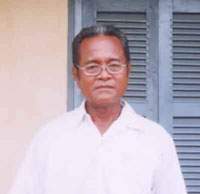 Mr. Ros Eak, a 66-year old village farmer with grandson at
the Alvash and Betsy Dearth School.
Mr .Ros Eak is a 66-year-old farmer in the village. He has been living here for a long time and has four sons and 3 daughters. All of them are already married. He has only his grandchild studying at the new school. His house is about 800 meters from school and his grandchild walks to school every day.
"I am so happy that all the students, including my grandchild, get to learn in this new school. Because the new building has been built, it makes things a lot easier on everyone and we would like to say thank for the donation of this school."