The Cambodia Rural School Project
The Alvash and Betsy Dearth School
---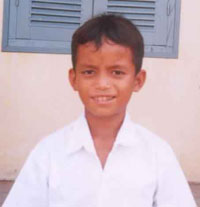 Un Srey, a 10-year old girl and 2nd grade student at the Alvash and Betsy Dearth School.
Rin Kao is a 10-year-old boy, attending 2nd grade at the Alvash and Betsy Dearth School. He was ranked number four among the 49 students in his class last year. He is the oldest child in a family of four children. One of his younger brothers is studying at the new school with him. His father is a motor cycle taxi driver and his mother is a farmer as well as a housewife.
"I like to study literature because I want to know how to write a good letter."
"I like the new building because it is the nicest school. It is about 200 meters from my house, and I walk to school every day."
When I grow up I want to be a teacher because I want to develop the next generation in my village.