The Cambodia Rural School Project
The Caramanico School

---
Opening Ceremony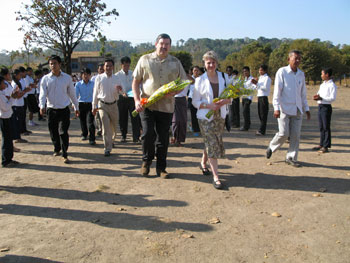 School donors Anne and Thomas Caramanico carry flowers given by grateful school children as they walk to the platform at the opening ceremony of the 5 room school building that they funded.

Anne gives a speech to about 400 villagers, teachers and students who are gathered for the dedication ceremony of the new school she and her husband funded, on Jan 26, 2009.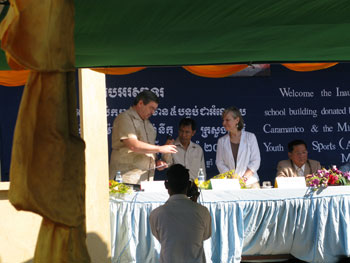 After Anne's speech, Tom gives a speech stressing the importance of education. "A good education is better than wealth," he said, citing the 300-year-old motto of William Penn, founder of the Penn Charter School in Philadelphia.

Anne and Tom receive a letter of gratitude from government for contributing a school building to Cambodian children.

Anne and Tom join hands, hold a pair of scissors and cut the red ribbon to inaugurate the new school building.

Anne gives the students each a T-shirt she brought from the States.

Tom gives each of the students a copy of the Khmer version of Harry Potter.