The Cambodia Rural School Project
The Jack and Helen King School
---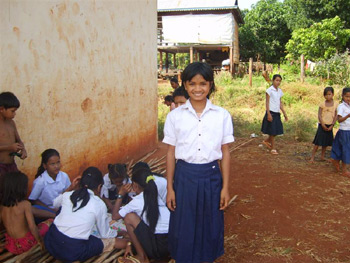 Som Srey Huy is 13 years old. She is in fifth grade at The Jack and Helen King School. She was ranked number 3 among her twenty classmates in the last school year. She is the only child in the family. Her parents are farmers.
"We have seven hectares of cashew nuts. We don't have any plot of land for rice paddy. There are only three persons in the family," said Som Srey Huy.
"My favorite subject is Khmer language and Math. I am strong enough in dictation and not so good in writing. I always get the best score for Math," she said.
"I am also the best student in social studies. Science is a subject that I am not so familiar with," she said.
"I love my school because I want to increase my knowledge in the future. I have many friends in the school. We share our knowledge with each other."