The Cambodia Rural School Project
The Lee Rudlin School
---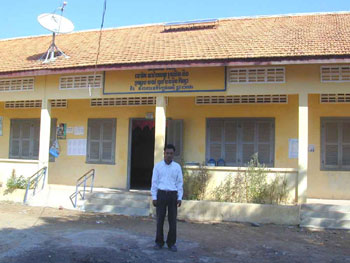 Mr. Khiev Chanmony is the teacher of grade 4 at the Lee Rudlin School. He is also assigned to be the deputy school principal. He is single and staying the school campus while teaching children at the school because his home is far away.
"From 1987 to 1995, I was a student in a primary school at my home village and from 1995 to 2001, I was a student at a high school in the district town. I did not pass the high school because I had to attend a two-years long course of pedagogy from 2001 to 2003. After the teachers school, I was assigned to a primary school in my home district for two years," he said.
"In 2005, I was sent to work at the Lee Rudlin School and promoted to deputy director," he added.