The Cambodia Rural School Project
The Mr. and Mrs. Sak Nhep School
---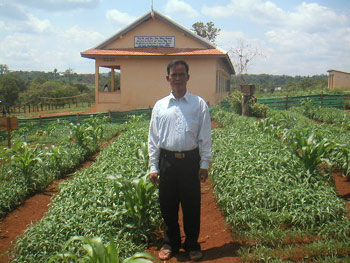 Mr. Ny Phoeuy is the 40-year old school director.
He is married with four children.
Three children go to school and the youngest stays at home. His wife is a farmer in the school village.
He graduated from the teacher training school in 1989 and was sent to teach the children in this district. Since 2002 he was promoted to be the school director and sent to work at this new school.
"I like my current job. I am happy to teach the children and I like most to see the children come to school regularly," he said.
"Before the area had never had a school for the children to study in. Now we have a new school and the villagers understand about education and send their children to school. More interesting, the students and the teachers are very happy and happy with the nice victory garden," he said.