The Cambodia Rural School Project
The Phoum Kor Nippon

Foundation School
---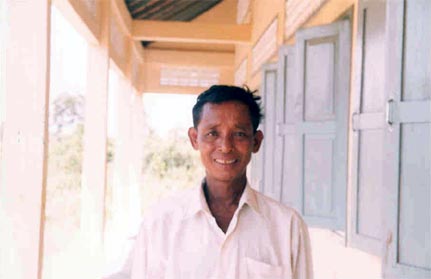 Mr. Yim Tan is the school director of the Phoum Kor Nippon Foundation School.
I am 48 years old. I have six children, three daughters and three sons. At the moment only one son and one daughter attend the new school. My wife makes charcoal to sell. Sometimes she sells it at the market in Svay Sisophon, and sometimes at home. But when she sells at the market she can earn more money than she does at home, because the price for coal is higher in the market. A sack of charcoal costs 90 Baht to 100 Baht at a market. At home she only gets 45 Baht per sack. The price is so different is because she has a lot of customers buying at her house, and so she doesn't need to go all the way to the market, which is about 45 km away.
The people in this village are very poor and it is difficult for them to earn enough money to feed their families. Most of them make charcoal and go to sell it at the market.
I became a teacher in 1998. I used to teach in the old two-room wooden school that the community built in 1998. In 2000 the community chief, teachers and villagers worked together to tear down the old building in preparation for the construction of a new building. At the time we got support from an NGO, who donated tin for the roof. Now, I'm very happy that we have a new school building and I want to keep it for a long time.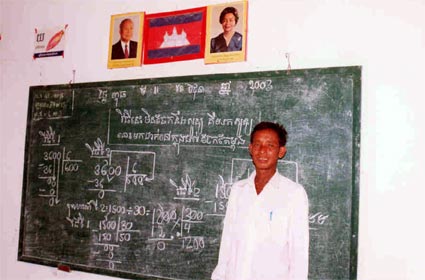 Mr. Yim Tan in front of his class. The pictures on the wall are of H.E. King Norodom Sihanouk and H.E. Queen Monineat Sihanouk.