The Cambodia Rural School Project
The Pothipreuk Nippon

Foundation School
---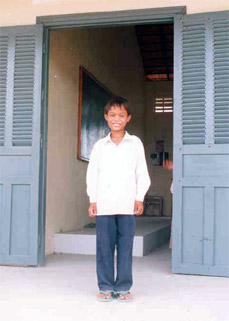 Nuon Kamsan is a second grade student at the Pothipreuk Nippon Foundation School. He was ranked second out of the fifty students in his class.
On himself:

I am elleven years old. I have one sister and one brother. My parents are
rice farmers, but we don't have enough land to feed our whole family. So my
parents sell bamboo shoots to bring in some extra money for food. My houes
is only 200 meters from school.

On the new building:

I am eager to study in the new building. I've seen the new desks, and they
are much better than the ones we now use.

On his spare time:

In my spare time I help my parents by cutting the grass around our house and
take care of my two siblings. I also help plant banana, mango, and jack
fruit trees. When I have time, I love playing soccer and volleyball.

On her future:

I want to be a construction worker, like the ones that built the school. I
need to make money to feed myself.

Message to the donor:

I want to thank the donor for his support in building this school for me.