The Cambodia Rural School Project
The Sapporo Acasia Lions Club
School
---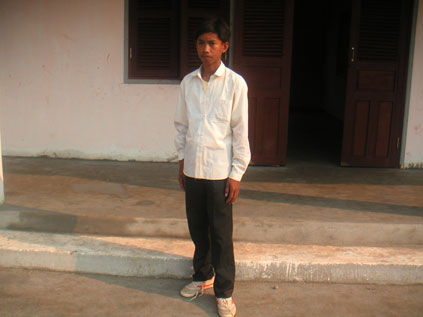 Sat Phally is a third grade student of the Sapporo Acasia Lions Club School
On the new building:

"I study in third grade. Like my classmates, I am very happy to have this new school building. We can all keep our classes going even when it rains or it's windy. I had never seen a computer before. Now I like studying it so much".

On school subjects:

"Oh! I am good at Khmer literature".

On his future: 

"In the future I want to be a computer technician and make money to feed my family".

On his family:

"I am fourteen years old. I have seven siblings and I am the youngest in my family. My father is the village chief here and my mother is a farmer".

I want to tell the donors that I am so happy that they built me this new and strong school building. They are showing me a way toward a great future. I will never forget their generosity.