The Serey School
The Cambodia Rural School Project
The Serey School

---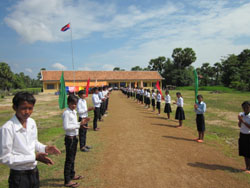 The Serey School's students line up and clap to greet the arrival of the
school donor Huy Chung.
Huy Chung delivers a speech to the students, teachers and student parents
during the opening ceremony held on October 21, 2011.

Huy Chung receives a letter of gratitude from the Ministry of Education for
building a school in Cambodia.

Huy Chung cuts the ribbon to inaugurate of the new school building

Huy Chung hands out a package of school supplies to each student in the new
classroom.