The World Mate School Number Seven

Children in front of the World Mate School Number Seven.  (November, 2001)
Number of School:
66
Name of School:
The World Mate School Number Seven
Name of Donor:
Toshu Fukami
Location of School
Province:
Rattanakiri
District:
Bo Keo
Commune:
Lung Khung
Village:
Lung Khung
Start of construction:
December 15, 2000
End of construction:
March 22, 2001
Student Body:
134
Teaching Staff:
3
Classrooms:
3
Average students per class:
40
Distance from Ban Lung:
34 km
Travel Time from Band Lung:
1:30

Note:  Ratanakkiri is very remote, and the easiest way of reaching it from other parts of Cambodia is by taking a 45 minute flight from Phnom Penh to Ban Lung, the provincial capital.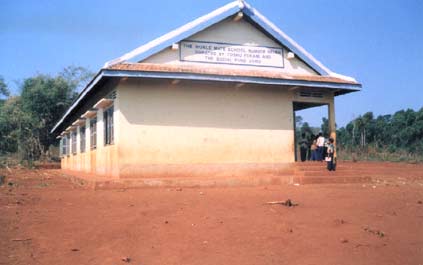 The signboards of the school read: "The World Mate school Number Seven Donated by Toshu Fukami and the Social Fund 2000."
In Their Own Words. . .