Village Leap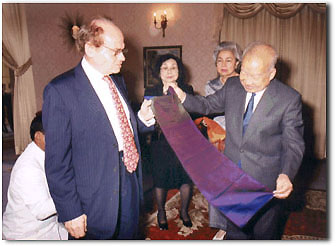 King Norodom Sihanouk admires silk scarf produced by Robib villagers, with
Queen Monineath, behind the King,  holding another scarf,  during a visit
to the Royal Palace by Bernard Krisher, chairman of American Assistance for
Cambodia and his wife, Akiko on December 5, 2000. On receiving the scarves
the King called in the palace television crew to describe the beauty of the
scarves and Robib project. The Queen commented they are of very high
quality. The segment was shown for about 10 minutes over national TV.

Village Leap provides a way for a rural village to bridge the digital divide, by bringing beautiful handmades silk products woven in Cambodia to you. We hope you enjoy our website.
Robib is One Village and also Every Village in the World
Robib is a group of six small villages in a remote, practically inaccessible area of Cambodia. In fact it is every such village in the world.
Its situation reflects the poverty, isolation, health hazards and limited educational and commercial opportunities that is the fate of the overwhelming population of the world.
But is doesn't have to be that way. The Internet now offers leapfrogging opportunities to take such villages out of their isolation and poverty into our global village.
Thus the name of this site: villageleap.com
Why com and not org? Because, though this project aims to show that a small village such as Robib has tremendous untapped assets and potential skills to fulfill computer-generated assignments, to produce and market hand-made products, to access information, to communicate its views to anywhere in the world and to enjoy better health care via the Internet, one of the aims is to help the people of Robib prosper through cyber commerce.
A system has been set up so that credit card orders can be filled and goods shipped out via EMS (the Express Mail Service of the post office) and reach Robib's customers anywhere on the globe within one or two weeks. A supporter, the Hotel Okura in Tokyo, is absorbing the credit card commission so the people of Robib will not lose in the transaction.
Now more about Robib:.
Robib is some nine and a half hours north of the capital of Phnom Penh, with our old, but reliable, Toyota pickup truck over some good but mostly very bumpy dirty roads. Our staff usually drives up first to Kampong Thom, the nearest sizeable town, which is still about two hours away and stays there overnight, completing the journey bright and early the following morning.
Robib consists of six smaller villages: Vieng Cheung (pop. 603), Tang Trak (pop. 1001), Khnang Malou (pop.1042), Bak Kadoung (pop. 783), Beung (pop. 304) and Romou (pop. 362).
The annual average per capita income of the villagers is around $40. Some earn as much as $54, but many only earn $27 in a year! The villagers harvest rice only once a year and it is barely sufficient to feed their families. There is no surplus. In bad years or when there is a flood there is not enough to go around. The farmers also grow vegetables and corn which they sell at the local market.
Robib has a health center but there is a shortage of medicine. Seriously ill patients have no access to expert medical care so little chance to survive. A representative from a foreign non- governmental medical organization, which the villagers can only identify a "AH," visits the village once a month and treats patients at the health center but they must purchase any drugs that are prescribed.
A single taxi, operated by a villager, is the main means of transportation in and out of Robib. It leaves early every morning for Kampong Thom and returns in the evening. The taxi is always full. Until two years ago there was no taxi at all and villagers found it difficult to travel. Sometimes if a military truck is in the region they could hitch rides. They have no means of selling their vegetables outside the village.
There is no electricity, plumbing nor phone lines. A call can be made to Kampong Thom or to Phnom Penh only by radio. The radio equipment in Phnom Penh is set up at one electronic shop near the central market where one can make or receive calls by setting up the time in advance with the parties one wishes to call who then stand by at the "telecommunications center" in Robib. A call of any durations costs $1.00. The reception is not always clear.
The children population of the Robib villages, according to the district chief, is "around 2,000." No exact figures exist yet for this year.
Literacy (just barely reading and writing) is claimed to be 85 percent but comprehension is low; the average education of older people is only up to around the 4th grade level. Today children begin school at the age of six. They attend primary school for six years and some move on to five more years of schooling in "college."
Fortunately Robib is clear of landmines though other communes in the region are vulnerable to mines left from the series of foreign and civil wars the country suffered through over the past four decades.
Like most of rural Cambodia, Robib's population is vulnerable to malaria, TB and some tropical diseases. AIDS which is growing uncontrollably in the larger urban centers, has fortunately not hit Robib due to its isolation.
Robib was under the control of the Khmer Rouges from 1975 to 1979. Subsequently the Khmer Rouges moved out of the village itself but remained posted about seven kilometers away, blocking the village from access to the outside. In 1998 the Khmer Rouges began to disintegrate and the population gradually returned to a life without fear. Many of its followers still living in the village have been absorbed without apparent rancor.
The French, in colonizing Indochina, established an educational system and Robib had its first school from then. All schools were closed and education stopped under the Khmer Rouges regime in the 1970s. Teaching was resumed here and in most of Cambodia only a decade ago but poorly; many children have been reduced to studying in old, unsafe school buildings or under the trees for the lack of structures. Opportunities for the children of Robib are limited. Most continue to farm. The artistic skills, such as weaving, have been lost but now are being relearned. Those who leave for the cities can expect at best to do very menial low-paying work or become cyclo drivers, sending their very meager incomes back home to support their families.
If some children can be educated to benefit from their knowledge of computers, English and in maneuvering the Internet, the future prospect of bringing computer-related work into villages such as Robib can raise the economic level and well being of its people.
We are in the process of helping to construct 200 rural schools in Cambodian villages such as Robib, under a matching-fund program where donors contribute $14,000 to build a three-to-five room school with their name on it and this contribution is matched by the World Bank through Cambodia's Social Fund, for an additional $12,000. The donor may add an optional $1,700 to cover the cost of solar panels, placed on the roof, which provide sufficient energy to operate a computer (donated by Apple-Japan, The MIT Media Laboratory, Deutsche Bank in Tokyo and several others) for five-six hours a day so the schoolchildren can get some training in working with computers.
A school in Robib with computers and now Internet access, was built in November 1999 with funds donated by Ms. Wakako Hironaka, a member of the Japanese parliament and former Minister of the Environment. In neighboring villages to Robib two other schools were opened on the same day, also equipped with a computer each, funded respectively by Nicholas Negroponte, the director of the MIT Media Laboratory, and the other by the Shintoshin Rotary Club in Shinjuku, Tokyo.
Children in these villages are taught how to use computers by orphans aged 8 to 11 who have mastered computer literacy and Internet surfing over the past year and a half at a computer center we helped to establish at the Future Light Orphanage in a village outside of Phnom Penh. The Computer Center was built with a donation from Toshu Fukami, chairman of World Mate of Japan who is also funding ten village schools.
These orphans have been transferring to the rural schools, as they go up, where we have set up computers and teaching the other children and teachers how to work on a computer.
For more information about the Cambodia Rural School Project please look at our Home Page: www.cambodiaschools.com
And for more information about the children at the Future Light Orphanage, who rotate to Robib to teach their classmates what they know about computers and the Internet–or to send e-mail to these children–see: www.futurelight.org
To send e-mail to the children at the Hironaka School in Robib write to: hironakaschool@yahoo.com
In July 2000, with the cooperation of the Ministry of Posts and Telecommunications of Cambodia, Shin Satellite Corp. of Thailand (a member of the Shinawatra Group) generously loaned to Robib a satellite dish and set up an Internet connection from the village to its satellite over Cambodia which linked the village school into the Internet and all that such a connection offers.
Some critics have chided us for bringing computers and the Internet to such a poor, remote, backward village when the people there primarily need more food, clothing and health care. My answer is "why not both?"
I hope you will agree, log into this site often and support the village by ordering its product as a sign that a real link can be established between such villages and us.
Bernard Krisher, Chairman
American Assistance for
Cambodia/Japan Relief for
Cambodia
bernie@media.mit.edu
Thus the villagers of Robib are in the process of training now to make beautiful silk objects and sell them to you (see Silk Weaving Project). This hopefully will become a model for villages all over the world which can watch Robib and learn how to adapt some of its leapfrogs in its race toward a better life.