The Cambodia Rural School Project
The Credit Suisse-First Boston
School
---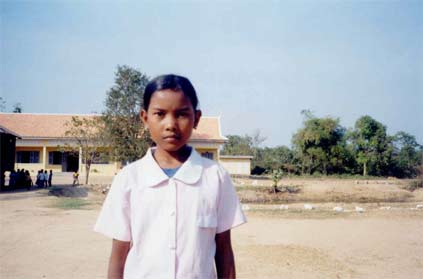 Chhat Rem is a 13-year-old third grade student. She got number one among her 28 classmates. She has 13 brothers and sisters. She is the sixth child in a farming family who live in the village next to the school village.
At school, I am good in Khmer literature and I like to read Khmer language books. I heard of computer, but I have never seen it. I want to learn computer lessons.
揥hen I grow up, I want to be a farmer because I like my village so much and I don抰 want to go away from my village. My family owns 2 hectares of rice fields that can feed the whole family all year round when the harvest is good. But when the harvest is bad my family would face the food-shortage.