The Cambodia Rural School Project
The Wahrenbrock Family School
---
Mosquito net distribution to villagers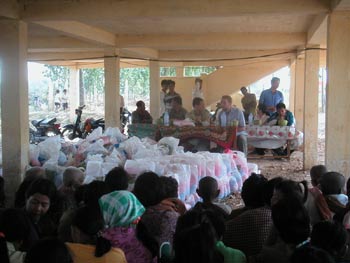 Before distributing 700 nets funded by the school donor, Mr. Scott A. Wahrenbrock, to villagers, a meeting is held on March 2005 under the school to educate people of the importance and quality of the nets. On the table: from the right to left, Erik Wasson of The Cambodia Daily; Dr. Doung Socheat, director of the Malaria Center; Mr. Keo Lorn, chief of Chong Ankor village; and Mr. Yiem An, chief of Ka Bak village.

Erik Wasson, representative of the popular English-language newspaper, The Cambodia Daily, gives a speech to the villagers.

Erik Wasson gives nets to a woman on behalf of the school donor who was kind enough to buy nets for the villagers.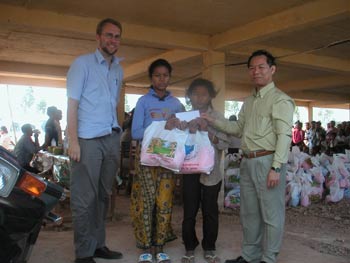 Dr. Doung Socheat, on the right, gives nets to two young girls whose parents died of HIV Erik Wasson stands on the left.

Dr. Doung Socheat takes note of the names of the two girls while some villagers look on.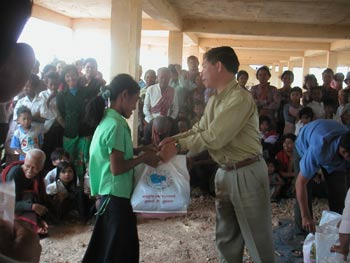 Dr. Doung Socheat gives a net to a young girl.