The Cambodia Rural School Project
The Yokkaichi School
---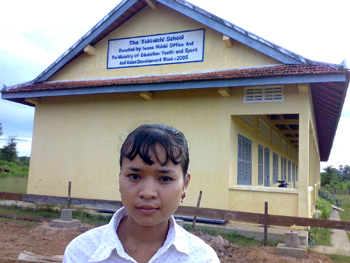 Bea Sophan is a 20-years-old 12th grade student at The Yokkaichi School. He has 6 siblings, four brothers and two sisters. He is the fifth child in the family. One of his brothers is learning in the 10th grade this year. His parents are working in a children center in this district town. His house is in front of The Yokkaichi School.
"I like to study in the new concrete school building, because it is near to my house and so I not need to go far. I started studying in this school in 2005. I rank number 2 among the 46 students in my class," he said.
"I like to study English because it is a language that many people like to study," he said.
"I want to be an architect when I grow up, because I am interested in this work since I was young," he said about his future.