Art Sreynoch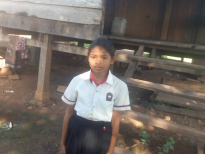 Art Sreynoch was born on November 02nd, 2005 and she is a student in in grade 4 at Beng Kaung Village, Preah Khlang Commune, Thbeng Meachey district, Preah Vihear province.
Sreynoch has 8 siblings and she is eighth child in the family. Her farther name is Mr. Song Art and her mother name is Meak Yourn. Her farther is a farmer and her mother is housewife. The family have owns a half-hectare of farmland, in which they can earn less than $300 a year in rice production. Her brother and her sister they were help their parent. In her family, only study alone is Miss Art Sreynoch. As this is not enough to support the family's needs, Sreynoch's farther commonly has to go on trips to be a worker. He has to carry the sack of cement and he can earn 5$ in a day. This means, that even with this additional income, the parents do not have enough money to support the family and their children's everyday needs.
As a result, Sreynoch commonly has to miss school to stay home and help to care for her siblings or help in the rice field and other housework
Sreynoch 's goal wanted to be a teacher. She wants to help the kid in her village because many of houses is far away the school, so she want to help the kid near her house.  Moreover, She wants to help her family to live in a better life.
Date posted: June 2018