Bun Dany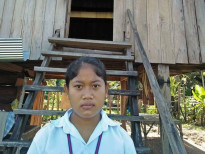 Dany is a 14-year-old and she is studying in grade 7 at the Romdos Sre's School in Romdos Sre commune, Choam Ksan district, Preah Vihear province.
Dany is the eldest child in her family, and she has one younger sister. Dany and her sister live with their father and her mother was died eight years ago since she was six years old.  Her father is a farmer, owning a small piece of farmland in which he can produce 600kg of rice per year and he doesn't selling the rice because he keep for daily eating for a whole family. Dany's father also works as a construction worker, earning $5 a day. As Dany is the eldest sister in her family, she is responsible for take care of her younger sister while her father is at work. Additionally, she is responsible for to do housework and in the rice field. They live in a poor family and sometime her father doesn't have enough money to buy school supplies for his children.
Dany is a good student and she always get a high score in class and sometime she helps to explain the lesson to her classmate.
In the future, she want to be an accountant at the bank because she want to run the bank process to get a high profit and get the salary to help her family to live in a better life.
Date posted: April, 2018