Chhea Leak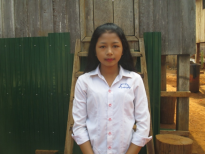 Chhea Leak is an 18 year-old student who is attending in grade 10 at Dormitory School, which is located in Banlung town and Ratanakiri province.
Chhea Leak is an ethnic minority student who has gotten five members in the poor family and she is the first child in the family. Her parents are residents and they have owned a farmland for one hectare for the rice's transplantation. The rice's production which they have harvested yearly is between 500kg to 700kg per year.
As a matter of fact, the amount of that rice's yield wasn't affordable to feed her family's members for a whole year so that besides growing rice her parents had sometimes looked for an additional work to do as such doing as a grass cutter and grass cleaner in order to get about 5 US dollars a day for each one.
Leak stressed despite her parents could earn the income from their job but it wasn't still enough to resolve for her school supplies as well as her uniform. Hence, at the weekend Leak commonly went to help her parents at the neighbors' farms and got bit money to buy some stuffs for her study's needs.
In the future, Chhea Leak wants to be a police woman because she always expected to do that job and loved that job so much and she really wanted to prevent people from other matters. So that's why she wanted to become police woman.
Updated: June 2018