Chor Riem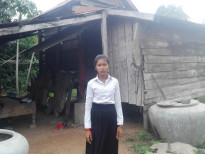 Chor Riem is 14 years old, a student in grade 7, at The Kimino Yume Mezaseba Kanau School #501, Donated by Hajime Nishiya, 2009, located Romduol village, Varin commune, Varin district and Siem Reap province. Cambodia.
Riem has five sisters and three brothers and she is the third child in the family. She is living with sisters and brothers at home and her parents work as construction workers in Thailand. Her family is very poor and owned half hectare of farmland where they can produce 650kg of rice per year. Her parents earn 30,000 riels by day in Thailand and every month they sent some money to support Riem and her siblings for daily life and study. She is a good student in the class. On the free time she likes reading the History book, reviews the lesson and helps her sister cooks.
In the future, she wants to be Khmer teacher, she hope to help teaching children in her village and support her family.
Date posted: July 2019