Heng Sang Huoy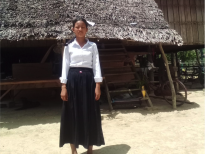 Heng Sang Huoy is 15 years old and is a student in grade 7 at The Ang Daun Pis Village Learning Center #550, located in Korng Pisey District, Kampong Speu province, donated by the students of the Australian International School Singapore.
There are five members in her family, two parents, two sons, and one daughter. Sang Huoy is the third child in her family. Her father's name is Koy Hok. He is 48 years old. Her mother's name is Daung Aun. She's 46 years old. Her parents are farmers who own half a hectare of farmland, which can produce 1000 kg of rice per year. It's just enough for use as food for the family. Her mother and father work as rice farmers on their own land, as well as wood-apple (Phle Khvet) pickers, earning 30,000 Riels a day. As the family is very poor, there is not enough money to support Sang Houy's studies. Sang Huoy commonly has to ride her bicycle to school which is one kilometer long from her house every day.
Sang Huoy is a good student and daughter. She works hard in class when she is free. She always helps her mother to do housework.
In the future, she wants to be a businesswoman. She wants to earn more money and she would like to be able to support her family and help them to have the opportunity to live a better life.
Date posted: April 1, 2021