Hie Sreylout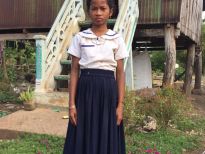 Hie Sreylout is a 13-year-old student in the sixth grade at Wat Thmey primary school which locates in Takhong village, Trean Commune, Kampong Siem Disrict, and Kampong Cham Province.
Sreylout has four siblings, two sisters and two brothers, and she is the second child in the family. Her mother and her father are divorced, and her mother is the sole caregiver for all the children. Her mother is a farmer, which does not earn enough money to support the family, so she also has a small convenient store in her house, earning  20,000 Riels a day.  Sreylout helps her mother to do housework and sell goods when her mother is busy in the rice field. In her free time, she likes reading books and doing her homework.
In the future, Sreylout wants to be a teacher because she wants to educate young children in her village and she likes teaching.
Date Posted: January, 2018