Hieng Srien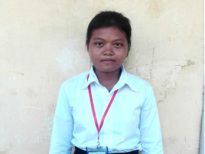 Hieng Srien is 15 years old, and is in grade 9 at Donduong Secondary School and she lives in Balang village, Balang Commune, Baray District and Kampong Thom Province.
Srien has three sisters. She is the eldest child in the family. Her parents are farmers owning maybe one hectare of farmland. The family is able to collect maybe13 sacks of rice per this year, which is just enough to provide the family with for a year. After collect of rice her parents went to work as pull of potatoes, picker corns and sometime construction worker in their district for money. They get from 18000 or 20000riels a day from their work but it is not every day. Hieng Srien's family is very poor. Her parents very difficult to support money to her when she needs such as: need studies English part-time or math part-time, because her parents didn't enough money for support her studies, she gets only 500 or 1000riels per day for her studies, and rides her bike to school every days.
Srien is a good daughter and is always a good student in class, after school she is responsible to help her parents with housework and looking after chickens and cows and feed them.
In the future Srien wants to be a Khmer teacher because she wants to share knowledge and education to the students in her community as well as to help other people and she wants to support her family to get better.
Date Posted: December 2018