Kean Vann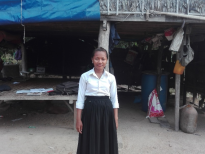 Kean Vann is 15 year old, and she is a student in grade 9 at The Pras Chisovan high school in Kraul Chi Village, Popel Commune, Boribo District, Kompong Chhnang Province.
There are 4 members in her family, her father is Sorn Saren and her mother is Keom Beu but she was died since she was young, one brother and one sister. She is the first child in her family. Vann's family have owns one hectare of farmland for growing rice and they are able to collect 50 bags per year but they are not selling because they keep for daily eating in a whole year. Her father is a farmer and he can earn 50$ per month from sugar made from the palm but it still not enough to support his family expenses. Nowadays, they are living in a small house with bad situation.
Kean Vann is a very hard study and she is a good student in class. After a long day of studying at school, she goes home to help her parents with housework. In her free time she likes to read the book and review lessens from school.
In the future, she wants to become a teacher because she can support her family and provide them to live in a better life. Additionally, she wants to teach the kids in her village and show them how to lead a good life.
Updated: July 2018