Leam Sreymoun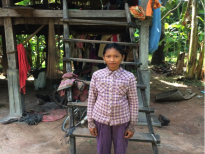 Sreymoun is fourteen years old student in ninth grade at Chop Ta Trav Junior high school In Chop Village Chop Ta Trav Commune Angkor Thom district Siem Reap Province.
Sreymoun has three brothers and one sister. Her parents are farmer. Her parents can gather fifteen sacks of rice's production and quantity of one sack of rice about 80-90 kilogram per year and her farmland depends on natural raining only.
In her free time, she like doing homework, exercise helps her mother and. Her dream wants to be a teacher because she wants help children in her commune and she would loves to earn money to support her family in the future.
Date posted: December 2018