Leang Kheb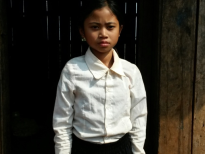 Leang Kheb is 9 years old, a student in 3rd grade at The Ascham School community in Poutaing village, Romney commune, Senmonorom district, Mondulkiri province.
There are five members in her, including her, three sisters and brother and Kheb is the first child in the family. Her parents are farmers and own one hectare of farmland where they can grow rice to support the family. Even they can sell some amount of rice products from their farm the income are very tiny to survive in the family. Out of the farm work, they are hiring to do the construction or digging wells where they can earn some extra income about 30,000 riels a day.
Kheb works hard in school, and continues her hard work when she gets home by helping her mother with housework and other chores.
In the future Kheb wants to be a teacher, she hopes to share her knowledge to the kids in her village.
Updated: June 2018