Mao Sreyhay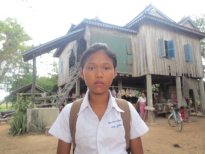 Mao Sreyhay is 14 years old and she study in 6th grade in the FordHarrison School.
The School is located in Tras village, Cheykompok commune, Prasdach district, Preyveng province.
There are 11 members in the family and she has nine siblings, four girls and five boys. She is the ninth Child in the family. Her mother's name is Sath Eourng and she is 55 years old and father's name is Vann Pot and he is 66 years old. Her parents are getting old now and it if very difficult for them to make money for their youngest child. Most of the time they are stays at home and often they go to pagoda. Family has ½ hectares for growing rice plant and they can produce rice for 1,500 to 1,700 kg and they are not selling because they are keeping for daily eating in a whole year but it still not enough for eating because in her family have many members. Nowadays they are living in a hard situation and sometime they don't have enough money for buying daily food and school supplies of their children. So her 2 brothers go to work as construction workers in Phnom Penh and get for 7$ in a day for one person and they send the money for 150$ to their parents for support their whole family and some of her sisters and brother got married and go to live in other provinces from her.
Sreyha is a good student in class and after school she always help her mother do house work and look after her father.
In the future, she wants to be an accountant in the bank because she thinks the bank always gives the staff with a standard salary and have many benefits.  Moreover, She wants to her family to live in a better life.
Date posted: June 2018