Mon Navy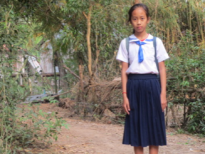 Mon Navy is 13 years old, a student in 6th grade in the Ford Harrison School located in Tras Village, Cheykompok commune, Preah Sdech district, Prey Veng Province.
There are seven members in the family. She lives with her mother and grandparents. she is a sole child. Her father's name is Peng Teang, 35 years old and he never comes to visit his daughter since he has left the family. Her father has given up the family since she was born. Her mother's name is Horn Samain, 35 years old. Her mother went to Phnom Penh to find the job in dry season. She is a fish selling worker in the market, she can earn about 150$ per month and send money to her daughter about 100,000 riels ($25) per month. She could not save any money out of supporting to sustain the family living. She could not find any better job because she could not read or write the language. Her family is very poor almost cannot support her daughter to school, her mother has a small plot of rice farmland where they can crop rice, the yield of rice are about 250 kilograms to 300 kilograms per a year that is not enough to eat during the year. They do not have their own house, Navy lives with her three cousins, and she is elder child in the grandparents' house, she has to help her old grandparents to take care younger cousins. On the other hand, she tries her best to attend the classes every day. At home she helps her younger cousins to read the book in her free time.
Mon Navy wants to be a teacher. She wants to teach the village's kids, she thinks it is the good job. She can work near her village, near her family and can earn the money to support her family. She wants to buy a new house and she thinks that a teacher has the honor better than other job.
Data Posted: March 2018