Neang Phanna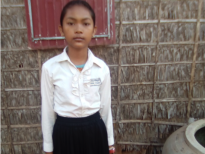 Phanna is 14 years old the student in 8th grade at The Nozomi School # 348 donated by David Sneider and Naomi Pollock Family. Located: Khchass Village, Khchass Commune, Saut Nikum District and Siem Reap Province.
Phanna is the second child in the family, with one older brother and one younger sister. Her family has no home and farmland and no land to rant so her family has no land for growing rice and her parents has no money for support the family so that her parents need to find the another job at Thailand and let the children stay with grandmother at home. Her parents works at Thailand as a builder and get 4$ per day for support kids go to school and food for family. Phanna is a good student. After school, she goes home to help her parents with house work. In her free time, she likes to read the books and review the lessons from school and help grandma to cook meal for her family and look after her sister.
Phanna wants to be a teacher when she grows up. She wants to help all the kids to and the most she wants to earn money to support her family to be better in the future.
Date posted: December, 2018