Ngert Saren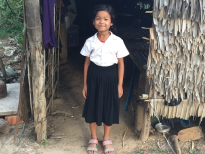 Ngert Saren is 9 years old and she is a student in 4th grade at The Sunnyside in Prasat village, Tong Rong commune, Prey Chhor district, Kompong Cham province.
She is the fifth child in the family. She has five siblings. Her father gets blind eyes so he cannot do anything and he just stay at home. Her mother is a farmer and they have own farmland for 20A of farmland for growing rice. They can produce for 500kg of rice in a year and they are not selling because they are keeping for daily eating in a whole year. Even they get income from the rice but they don't have money to support her family expenses. Her mother decided goes to work as a mango picker in the village and gets 7.50$ in a day to buy every food.  Sometime her mother doesn't have money to buy school supplies for her children. Nowadays, They live in a poor family and hard situation, Saren Said. After school, Saren helps her mother to do housework and look after her sibling and her father. Sometimes, she was absent from school to her help her mother of doing farming.
In the future, she want to be a Khmer teacher because she want to teach the students in her village and she wants to support her family to live in a better life.
Date posted: April 2018