Norn Sreylak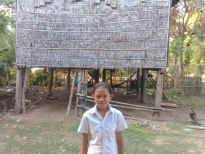 Norn Sreylak is 15 years old, study in grade 7th at The Milton School, which is located in Tuol Prich village, Mean Commune, Prey Chhor District, Kompong Cham province.
There are 5members in her family, grandmother, Parents, 2sisters including her and she is a first child in the family and her youngest sister study in grade 4th at the same her school. Her grandmother is so old and she cannot do anything, just stays at home. Her father name is Mr. Chin saren and her mother name is Sorn Pov, both of them are farmers. They have 1 hectare of farmland for growing the rice and they are producing the rice for 2 tons in per year but they keep for daily eating. After finish from growing rice, Her mother stays at home and looks after her children and grandmother. Her father go to sack the cement for earn more income to support his family living and He gets 5$ in per day. Even her father try to earn more money but the family still poor and don't have enough money for support their living.
Sreyleak always goes to school even she doesn't has enough money to buy her school support but she tries to study hard and after school she always help her mother to do housework and look after her sibling.
In the further, She be a doctor because she thinks that in her location is far always from hospital so she wants to cure the people in her village. Moreover, She wants to earn money to support her family to live in a better life.
Dated posted: April, 2018