Oeurn Dalis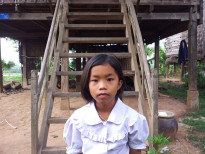 Oeurn Dalis is a 9 year- old student in Grade 3 at The Lotus School in Prek Dambouk Village, Kampong Chamlorng Commune, Khsach Kandal District, Kandal Province.
She has two brothers and one sister. She is the second child in the family. The interested subject that she likes is Khmer literature. In the future goal she wants to be a Korean translator.
She goes to school by friend's bicycle for 500 meters from home. Dalin is hard working. She is 9 years old but she always helps her mother to do house work and look after her younger brother. Her father is a farmer and he sometimes plies as a construction laborer, which he gets $4 a day.  Her mother plies as a garment factory and she benefits $128 per month. However, the income is not enough for the family's basic needs.
Date Posted: January, 2015