Ou Nareth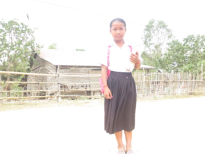 Ou Nareth is 11 years old, she learns in 6th grade at the Ford Harrison School, located in Tras village, Cheykompok commune, Preah Sdach district, Prey Veng province.
There are seven members in the family. She is the fourth child in the family. She has five siblings, one brother and three sisters, all her siblings are students. Her father's name is Ul Ouray, 50 years old and he is a farmer. Her mother's name is Hing Narinn, a farmer too. The family has 500 m2 of rice field where they can get the yield of rice about 800 kg. – 1000 kg in a year. They do not sell that rice for money just keep for eating during a year. Her parents do not have any other exact work except the small labor work day by day if the need to hire them to help in the village. From that kind of job, they can earn about 20,000 riels per day. They are very difficult to support all of their children to school because the income are not enough even support the daily life. Her father said the food for children, he still survives but to support all of them to school is very difficult. He does not hope he can send all of them to the higher education. Whatever, they will try their best to support them because their life are for their children. Nareth has to walk to school and sometimes help her mother selling cake when she has free time.
In the future, she wants to be a doctor. She wants to work in the health center in her village. She wants to look after her patients. She thanks, she can help many people and can save money to support the family.
Date posted: March, 2018