Pat Davin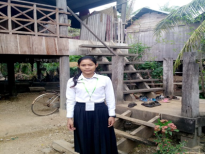 Pat Davin is 14 years old, a student in 8th grade at The House of Joy and Happiness, located in Thkeng village, Rohas commune, Rovieng district, Preah Vihear province.
Davin was born in a big and poor family with 8 members. Besides her parents, she has gotten three brothers and three sisters included her. Davin is the youngest child in the family. Her parents are farmers. They have a tiny plot of farmland. The rice that they harvested is about 700 kg and 1000 kg a year and they cannot sell it because they have to keep for the full year consumption.
Davin said besides growing rice, they have raised two more cows, 5 chickens and her father has also had another job as a palm tree climber in order collect palm juice to produce sugar palm for sale to get revenue to fill up the family's need. Davin clarified that her parents could get about $2.50 from selling sugar palm per day. However, they have effort fully found money by all means but it is still insufficient to support the family food, clothes and school supplies for their children.
In the future, she wants to be a Khmer teacher, because she wants to share her knowledge to all the children who have lived in the poor area as in her community.
Updated: August 2018