Sovann Muychoing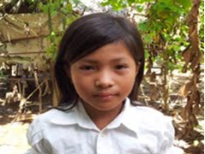 Muychoing is 9 years old in Grade 4 at The Lotus School in Prek Dambouk Village, Kampong Chamlorng Commune, Khsach Kandal District, Kandal Province.
She is the oldest child among her two siblings, one sister and one brother. Her family lives with her grandparent because they do not have their own land for farming nor housing. Muychoing's parents work at garment factor, however, they make very little income from this job and is not enough to support the family. Muychoing enjoys her studies and wishes to be an English teacher but she cannot attend class regularly. She had to help her family and to look after her youngest sister and do housework.
Muychoing's parent agreed and happy to send her class regularly with the support from the Girls Be Ambitious Program.
Date Posted: December, 2017