Srorn Sreynoun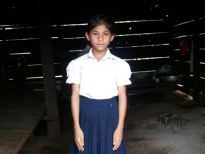 Sreynoun is 12 years old, a student in 4th grade at The Ascham School community #262 in Poutaing village, Romney commune, Senmonorom district, Mondulkiri province.
Sreynoun has five brothers and six sisters. She is the eighth child in the family.  Her parents are farmer they have 2 hectares of farmland to grow cashew trees. In the harvest season of cashew, they can gather about 500 kg of cashews, some bananas and vegetables, in total they can earn about $700 per year. Out of the products that they can get from the farm, her parents do not have any other extra job to earn extra money to support the family. However, her parents are always pushing Sreynoun to school every day. She gets 500 riels a day for her study pocket money and she walks to school.
In the future Sreynoun wants to be a nurse because she wants to look after her family and the people of her commune. Additionally, she wants to help financial support to her family and provide them with a better life.
Updated: June 2018