Then Shohan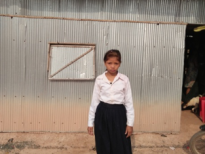 Then Shohan is 15 years old, a student in 8th grade at the Yoon Soon Jung School, located in Toul sdey village toul sdey commune chantrea district and Svay Rieng Province.
She has four siblings, two elder sisters and one elder brother. She is the youngest child in the family.  Her parents have no farmland. Her mother is working as a cleaner at a casino in Bavet (the border of Cambodia-Vietnam); her salary is $120 per month. Her father is a monk and stay at pagoda. Nowadays, her family is very poor her mother is a breadwinner to generate income. In each month, the salary that her mother got have to pay to the bank because her mother loaned money from the bank and the rest will support the whole family needs. Shohan comes school by her bicycle. Even she lives in the poor family but she studies hard and struggles to study and never absent.
In the future, she wishes to graduate the university and get a good job to be able to save her family from a very difficult situation.
Updated: May 2018