Tob Bopha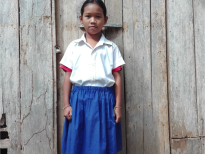 Bopha is 10 years old student in 5 grade at the Phnom Toch School in Phnom Tochvillage Tor Tong commune Dorng Tong district Kampot province.
Bopha has one sister and no brother. She lives with her grandparents. Her parents are work at other province. Her grandparents are farmers who own 0.2 hectare of farmland for transplanting rice. Her farmland is difficult to get water to supply their farmlands so their farmland depends on natural raining only. According to these reasons so her grandparents can gather 10 sacks of rice's production and a quantity of one sack of rice is about 400 kilograms.
Bopha is a good student and in her free time, she likes reading book, do homework and house work. In the future, she want to be a teacher because she want to educate young children, she loves teaching and love this career. She wants to earn income to support her family.
Date posted: December, 2018