Toeun Sobin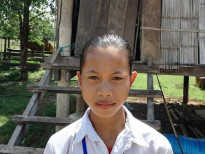 Sobin is 14 years old and she is a student in grade 8 at the Romdos Sre's School in Romdos Sre commune, Choam Ksan district, Preah Vihear province.
There are 6 members in her family, parents, one bother and three sisters including her. Sobin is the eldest child in the family and she has one brother and two sisters. Her father was passed away for one year ago and her mother 's name is Lin and she is a farmer. Sobin's family has own farmland for one hectare that can produce about 800 kg of rice in per year and they had sold for 300kg of rice and get 75$ for support their everyday food. They keep 500kg of rice for daily eating in a whole year. Even they can get income from rice but it still not enough to support their family expense so to earn more income. Sobin's mother goes to works as a construction worker and gets  $5 in per day.  Sobin is a good student and she always get a high score in class and she always explain the lesson to her classmate and after school she help her mother to do house work and look after her sibling.
In the future, She wants to be a singer because she really sing a song and she hope this skill can help her and her family to live in a better life and many peoples in the country will know her if she gets famous.
Date posted: April 2018