Toeb Sreyka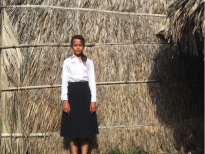 Srey Ka is 13years old, and she studies in grade 7th at The Tmor  Berk  School #351, located in Kampong Trach District, Kampot province, donated by Clarie Frankel.
 Srey Ka lives in Koh Chormka Village, Beong Sala Khang Tbong Commune, Kampong Trach District ,Kampot Province. There are five members in her family; she is the oldest sister in the family, with 2 brothers. Her father name is Teob Seng 43 years old and her mother is Noun Saraen 33 years old and they are farmers. This family is very poor and they are growing the rice and keep for their eating in a whole year. When they are finish rice season, their parent goes to work as a mango picker at the neighbor farm and get 3.5$ a day for supporting their family living.
Srey Ka is a good student in class and her always help to explain her classmate when they are not understading. She is very good at on Math, moreover she get number 2 in class. Srey Ka wants to be a banker because she want to share a part of her life to help Cambodia financial economic growing up and earn money to support her family to live in a better life.
Date posted: July 2019