Vantha Sreypov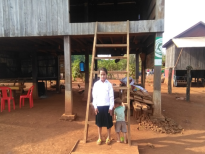 Vantha Sreypov is ten years old and she is minority tribe. She studies in grade 4th at The Mr. and Mrs. Sak Nhep School and she lives in Chorng Ra Village Batang Commune, Lumphat District Ratanakiri Province.
There are 5 members in her family, one younger brother, her parents, and grandmother. She is the first child in her family. Her mother and father are famers who own one hectare of farmland to grow rice, producing 700 – 1,000 kg per year. Additionally to being farmers, Sreypov's parents also work as laborers, but the family still in difficulty to cover their needs. Sreypov's parent is always busy in the rice field or looking for something to do to earn money for the family.
Sreypov rides the bicycle to school every day, when she gets home, she always helps her mother with housework, take care of her younger brother and her old grandmother, do chores, and cook for the family. Living conditions are very difficult for Sreypov but she still studies hard and tries her best not to miss her class.
In the future, she wants to be a doctor because she wants to help all the people in her country. Moreover, she wants to earn money to support her family. And when she has money, she will create and own a small business of her own.
Date posted: April, 2018