The Cambodia Rural School Project
The Develo School No. Two
---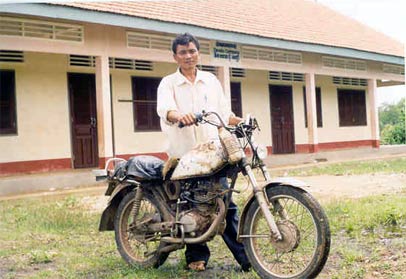 Mr. Mao Sokha is the school director of the Develo School No. Two. He is thirty-nine years old. He was born and raised in the village where the school is located. He married in 1986 and has seven children, two daughters and five sons.
Mao Sokha graduated from the teacher school in the provincial town of Banlung in 1984. After graduation he was dispatched to work at a primary school in Bar Kham commune, Bar Keo district, Ratanakiri. After three years, he was transferred to what is now the Develo School No. Two.  
"I like teaching mathematics because I myself as a student was good at the subject. I like teaching Khmer literature the least, for it is too complicated and difficult to explain."  
"Now I teach 60 children in the first grade. In the rainy season, some children do not come to school because they have to go to the rice field and help their parents farm. After the harvest from the end of January, all the children come to class regularly again. This has become a custom for the children of this village."  
"Parents of the students want their children to go to school during the farming season, but their rice fields are far away from the village. Because the parents have to stay in the rice fields during this time and cannot leave their children alone in the village, the children have no choice but to stay in the field as well. That is the problem I face every rainy season. I don't know what to do to encourage the children to come to school regularly during that season."  
On the new building:
"It is quiet and easy to teach in the new building. The old building was made of wood and didn't have a wall, and I had a lot of problems teaching there because of the noise from the class next door.